Ecommerce Masters by Foundr is an online course taught by 5 successful Ecommerce entrepreneurs. These 5 instructors are world-class entrepreneurs who have grown their online stores to 7 figures.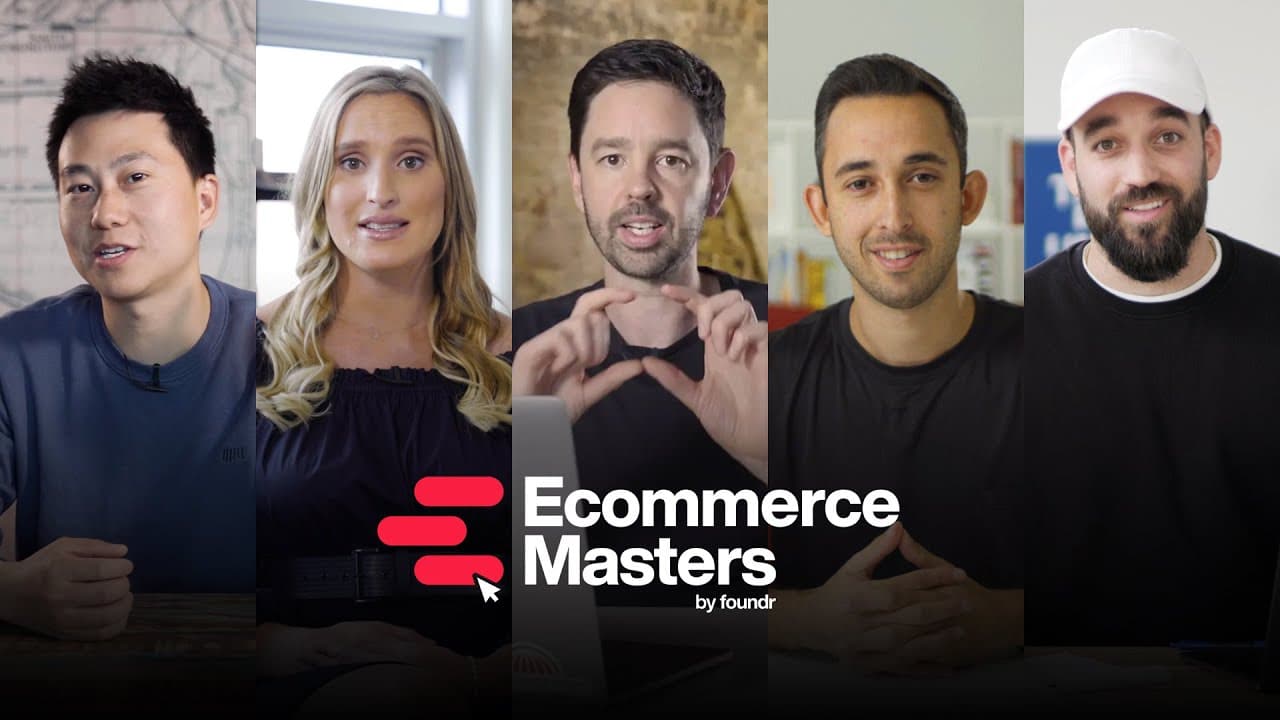 If you want to learn how they scale their online stores to a million dollars, this course is for you.
With the right strategy, scaling your online store from $50,000 in sales to 1 million is not difficult. You don't need to take a high risk to achieve this. You just need one product to hit the one-million-dollar goal.
The beauty of Ecommerce Masters by Foundr is that the strategies taught have been tested and proven by 5 successful entrepreneurs. I don't like the concept of "know-it-all guru" because nobody knows everything. So learning from 5 successful Ecommerce owners is the best thing you can do.
Many people are misled and waste time and money by trying many useless things. But actually, you just need one scaling strategy to succeed. The real 7-figure entrepreneur just uses one main "scaling strategy" and repeats it again and again.
Ecommerce Masters by Foundr brings in 5 world-class Ecommerce founders and tells you each of their own "scaling strategy". You don't need to apply all the strategies they teach you but choose one that is most suitable for your business.
By enrolling in Ecommerce Masters by Foundr, you are literally getting 5 advanced Ecommerce courses at the same time.
Get A Special Offer and Instant Access Here
Who are the Instructors of Ecommerce Masters by Foundr?
This course is very special, which is not taught by one instructor, but 5 instructors. That means you're going to learn from 5 successful entrepreneurs within one course.
I have not seen such a course which allows you to learn from 5 entrepreneurs at a time. The value and business insights you can receive is tremendous.
Below, I will introduce the instructors to you one by one:
Nick Shackelford
Nick Shackelford is a world-class expert in Facebook ads. He helps more than 150 online stores to scale their business using Facebook ads. He has spent over $85 million dollars in Facebook ads so far.
Actually, Nick Shackelford is the one who popularised fidget spinners. He made a lot of money by selling fidget spinners via Facebook ads.
If you want to learn more from Nick Shackelford about Facebook advertising, you can also consider enrolling in his comprehensive Facebook ads course: How to Run Facebook Ads by Foundr. You will learn everything about Facebook ads in that course.
Gretta Van Riel
Gretta Van Riel has built multiple 7-figure Ecommerce brands over the years such as SkinnyMe Tea, Drop Bottle etc.
Gretta is an expert of influencer marketing. She scaled four of her own Ecommerce brands to 7-figure in just 4 years using Influencer Marketing. If you want to learn how to do influencer marketing, you must learn from her.
Actually, Gretta Van Riel is the instructor of another popular Ecommerce course called Start and Scale Your Online Store. This course has more than 10,000 students so far. If you are new to Ecommerce, you might consider enrolling in that course as well.
Rob Ward
Ro Ward is the founder of a popular brand called Quad Lock. He bootstrapped his online store from 0$ to $9M in 4 years. He has sold millions of products to over 100 countries now. Just like Gretta, he won the Shopify Build A Business award.
Right now, his product is featured on Apple's website and by influencers like Kylie Jenner and Chris Froome.
Rich Li
If you don't know who Rich Li is, let me tell you. He is the co-founder of luggage startup July and the online furniture retailer Brosa.
Brosa is Australia's biggest online furniture retailer, which is worth over AU$50M. Also, Rich Li generated $5M of revenue in the first year of July.
Rich Li will share how he managed his supply chain in Asia and help you set up your operation.
Chase Dimond
Chase Dimond is an expert in email marketing. He uses email marketing to help his clients' online stores to scale to 7 to 8 figures.
By just using emails, he managed to generate over $20M in revenue. He has helped brands like The Chive, IBEX, Original Grain etc to grow their online store through email.
So if you want to learn how to use email marketing for your online store, you should learn from Chase Dimond for sure.
Get A Special Offer and Instant Access Here
Who is Foundr?
I am a big fan of Foundr because the education materials it produces are always of high quality. Foundr is a global media and education company that has millions of followers on social media. It was started by a young entrepreneur called Nathan Chan.
Have you read Foundr's Magazine? If not, you should grab one because every issue of Foundr Magazine has lots of great business insights. They interviewed a lot of successful entrepreneurs around the world and shared their knowledge with business owners.
Foundr is an advocate of sharing practical knowledge. They only partner with practitioners, not professors, to create educational materials or courses. So if you buy Foundr's course, you can be sure that what you learn is proven to work.
In this Ecommerce Masters course, Foundr partners with 5 successful entrepreneurs and gathers all their business insights in Ecommerce. It's an amazing course for anyone who is doing Ecommerce.
Overview of Ecommerce Masters by Foundr
Ecommerce Masters by Foundr is taught by 5 instructors, which I introduced in the previous section.
You will learn the core drivers to grow your business that can make a great impact on your business.
If you want to dramatically increase your online store's average order value and have a higher profit margin, this course can help you for sure.
There are 5 modules in this course. Each module is taught by one expert and is dedicated to one specific marketing strategy. There are more than 70 video lessons and the course lasts for more than 10 hours. So you can expect this course to be very comprehensive.
Module 1: Scaling With Facebook Ads
This module is taught by the Facebook ads expert Nick Shackelford. You will learn how to scale your store using Facebook ads.
Nick Shackelford will share some little-known Facebook ads strategies with you. He used these strategies to scale a new store to $10.5M in 32 days. So I'm sure you would love to know how it works.
Module 2: Scaling With New Products
This module is taught by Rob Ward. He will share with you how to add products to stores that customers want to buy.
You will learn Rob Ward's "Product Success Formula" which has been proven to work for selling lots of new products.
Module 3: Scaling With Advanced Operations
This module is taught by Rich Li. If you are doing Ecommerce, you should understand the importance of setting up a smooth and robust supply chain.
Rich Li will share how he handles sourcing, production and logistics. I was amazed by his "Double Spy Framework" which will enable you to negotiate the best price with your supplier so that you will have a much higher profit margin.
Module 4: Scaling With Advanced Influencer Marketing
This module is taught by Gretta Van Riel, the best Ecommerce expert that I have seen. I joined her "Start and Scale Course" and learnt a lot from her.
In this course, she shares even more advanced influencer marketing strategies that she used to create millions in sales and followers. Her "4-Stage Influencer Funnel" is a game-changer when it comes to increasing sales. You should not miss her valuable advice.
Module 5: Scaling With Multi-Million Dollar Email Marketing
This final module is taught by Chase Dimond, the King of Email Marketing. Running ads can be expensive, but if you know email marketing, you can make more sales without paying for advertising.
Chase Dimond will teach you how to make more money from your subscribers and automate the process. His teaching of the abandoned cart email sequence is amazing that he can help you generate thousands of dollars more each month.
7 Bonuses
After enrolling in this course, you can get access to the private Facebook group where you can ask questions and interact with other students.
Also, there is a chapter called "Outsource Your Influencers" where Gretta will share with you the exact systems, documents and strategy to outsource to a virtual assistant.
Moreover, you will get the Facebook ads swipe file that Nick Shackelford uses to help you create high-converting Facebook ads.
Who is Ecommerce Masters by Foundr For?
This Ecommerce course is not for newbies. It's for those who already have an existing Ecommerce store and are making sales.
If you want to start a new online store from scratch, you should consider joining Foundr's most popular course: Start and Scale Your Online Store, which is taught by Gretta Van Riel.
But if you have an online store and want to make more sales, Ecommerce Masters is specifically designed to help you. You will learn how to grow your online store and get more people to buy your product.
The strategies shared in this course are tested by 5 successful Ecommerce entrepreneurs, so you can be sure that they are not merely theories.